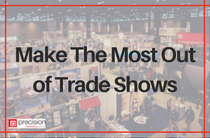 We're no strangers to the odd trade show here and there and if we were truthful, most of us feel a certain element of dread when approaching a trade show. Long tiring days and even longer nights preparing for the subsequent days/dismantling your stand, but it is worth bearing in mind that trade shows can be a very powerful marketing tool and valuable lead generators for your business.
From providing instrumental visibility to your potential client, to giving your brand more authority, exhibiting at a trade show has a number of opportunities to branch out to business-to-business trading, and create/increase your customer database.
However, a lot of businesses are put off because of the large price tag that can sometimes be attached. Of course, you can't just pull up with a laptop and handful of samples, expecting to wow the crowd. If you want to get noticed, some advance planning is in order to master the art of trade show trade shows.